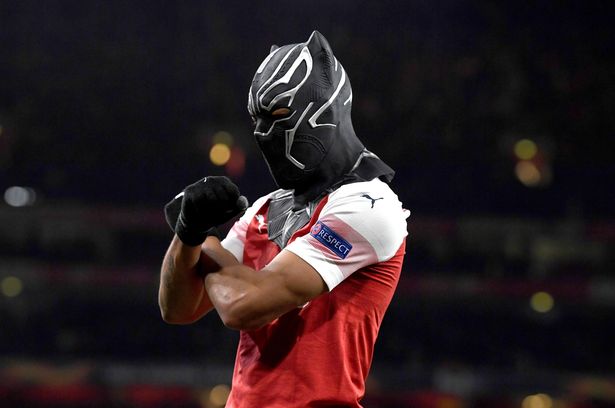 Every sportsman has some kind of signature move when it is the time to celebrate. However, in the case of Aubameyang, we have been witnessing something unusual. Wearing a superhero mask after every goal for the celebrations seems a little odd and put up many questions among people.
Best Hitting Nets came up with a mission to find out the reason behind this kind of celebration. The player has been marked wearing his specified Marvel superhero mask in several matches right after hitting a goal.
The player is not only known for his ultimate goal hitting skills but his love for the Marvel characters. He has been spotted wearing the mask at Arsenal and Borussia Dortmund as well.
What is the real catch?
There is no doubt everyone has his or her own choices. Liking something can be good but what is the reason behind its public display? Aubameyang is definitely not branding the Marvel superheroes in his matches but having another motive involved behind it.
The reason behind wearing the mask is that he enjoying wearing it because it makes his son and other young fans happy at a time. By wearing the superhero mask, he wants to relate the moment to the specific superhero by letting the kinds understand that there is a superhero in every single person.
At Dortmund and Saint-Etienne, he was spotted wearing a Spiderman mask when celebrating his hit to the goal. While back in 2019, he was wearing Black Panther when he scored for Arsenal in Europa League. At that time, Aubameyang said, "I needed that Black Panther make to represent myself as in Gabon we call the national team the Panthers."
In August 2020, after the death of Black Panther actor, Aubameyang presented him a tribute by crossing his arms to his chest after scoring against Liverpool in Arsenal triumphant 2020 Community Shield victory.
At once, a number of fans and other mates appreciate the style of celebration by the player in general. However, some of them in the house are not so happy about the style of the player. They call it a silly demonstration or branding of Marvel characters that look odd.
Best Hitting Nets believes everyone has his or her own opinion about anything. As far as the purpose is served Aubameyang, do not have any issues with anything that people think.
About Best Hitting Nets
Best Hitting Nets is all about reviewing the ultimate nets for sports such as baseball, football, and much more. it comes up with the reviews and suggestions to make it best for the players.
Media Contact
Company Name: Best Hitting Nets
Contact Person: Charles L Gonzales
Email: Send Email
Phone: +1-313-334-3792
Address:133 Prudence Street
City: Southfield
State: Michigan
Country: United States
Website: http://besthittingnets.com/