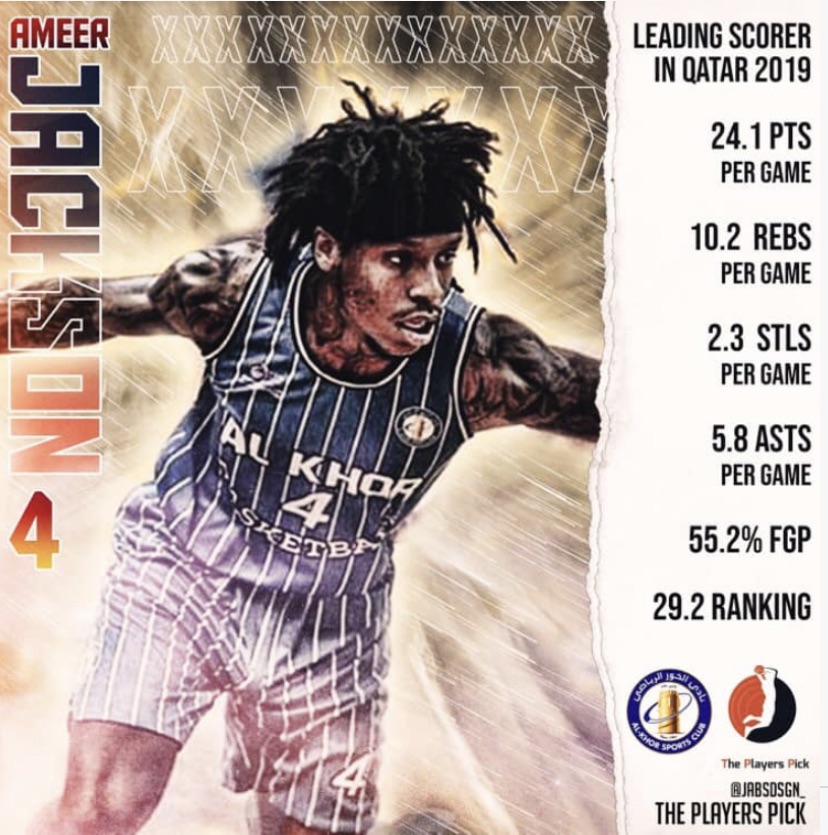 Every professional basketball player follows a unique path in writing their own story, and Ameer Jackson's is no different. Jackson is an NBA player who plays in the point guard position for Ezzahra Sports in Tunisia.
The 6-foot-4 guard from Paterson New Jersey was able to make a name for himself in a league that had several former G-league players such as Jeff Newberry, Nick Stover, Dominic James, Daquan Brooks, and many others.
From the highly recruited high school phenom destined for stardom to the blooming point guard grinding every day in an attempt to reach peak professionalism, the NBA is a league defined by its varying athletes.
But of hundreds of names across the association, not many can match the intriguing journey of Ezzahra point man Ameer Jackson — a truly exhilarating ride that includes some stops.
Today, he's a key member of one of the top teams in Ezzahra Sports in Tunisia, Africa, earning his spot by continuously putting in work and gradually climbing the ranks. The Paterson born player wasn't always the most athletic player on the court, nor was he the most prominent, strongest, or fastest. But Ameer has been able to build his game around his knockdown shooting, impressing scouts, coaches, and opposing players along the way.
The 26 years old, was listed and labeled as the best point guard in the Middle East, after averaging 24.1 points, 10 rebounds, and 5.8 steals per game. He was the highest scorer in Qatar for the 2018/2019 season and was also the youngest import into the country, Qatar.
"I would like to thank my coaches for never giving up on me and for pushing me to be my best," Jackson said. "They've helped me become a better athlete and, most importantly, a better person. I would also like to thank all of my teammates, past and present- it was awesome playing the game I love with a group of boys that mean a great deal to me."
"Jackson is a great athlete with an NBA pedigree," said Ezzahra Sports. "He has an aggressive scoring mentality and is a scoring threat from anywhere in the half-court. Because of his ability to create offense, Jackson has a good feel for the game to find his teammates," he added.
After Jackson's brilliant season in Qatar, he suffered a horrible injury that summer, where he tore his ACL (one of the main ligaments in the knee), right after signing for Al-Ittihad in Saudi Arabia basketball league. After recovering from a five-month of surgery, he signed to play for Ezzahra Sportsin Tunisia. However, due to the COVID-19 pandemic, the season was brought to an unexpected end.
Jackson is set to rejoin Al Khor sports club next season, and he looks forward to repeating and even improving on his 2018/19 strides there.
For all information regarding Ameer Jackson, check him out on Instagram and follow Ameer Jacksonon Facebook.
Media Contact
Company Name: Whoxgot
Contact Person: Ameer Jackson
Email: Send Email
Country: United States
Website: www.instagram.com/whoxgot4/