Industry experts acknowledge Wei-soft.com WinX HD Video Converter Deluxe as the best video converter software available. There is a big sale on wei-soft.com.
Wei-soft.com Limited, the graphic and multimedia solutions expert, has proven its credentials as an industry leader yet again. The company's WinX HD Video Converter Deluxe has emerged as the clear and undisputed leader in the DVD converter software segment. The highly reliable software is capable of converting videos of all formats real fast.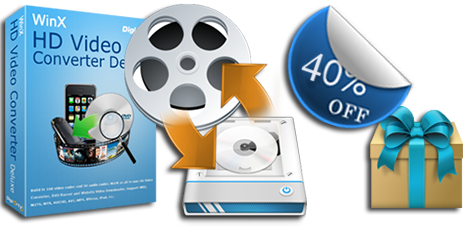 "Our unique video converter comes loaded with advanced features and is technologically far superior to other software programs available," says Elise Lyn, spokesperson for the company. "We are committed to providing our customers a superior video converting experience by which they can quickly and easily convert audio, video, and images reliably. Our WinX HD Video Converter offers a high-definition video and audio converting experience."
For those looking to convert audio and video that can be played on iPhone, iPod, PS3, PSP, Xbox, Apple TV, Google phones, and other types digital media devices, the WinX HD Video Converter offers a truly unique and rewarding experience. It can also convert between all types of mainstream video formats and standard definition videos. The converter comes with a 370+ preset profile for converting videos that can be played on high-tech devices like iPhone, iPad, Google New Nexus, and a host of other high-tech devices.

Video Link: https://www.youtube.com/embed/LCB_m-Kz6mc (Youtube Video Downloader)
The review of top five video converter software programs is done by industry experts, technicians, and users using stringent parameters of performance. Wei-soft.com Limited has topped the list consistently which is clearly a measure of its high-technological competence.
Second on the list is DVDFab Video Converter from dvdfab.cn. The software can convert videos in almost all popular video formats to video and audio formats. The quality is fairly good and the conversion is done at a decently good pace.
The video converter from wondershare.net takes the third spot. According to the reviews, it is a quality converter that does not have any redraw issues or crashes. The converted video and audio quality is modestly good.
At the fourth place is Xilisoft Converter Ultimate from xilisoft.com. It can convert common and 3D as well as HD audios and videos in various formats.
At the bottom of the top five converter list is Download Handbrake 0.9.9. It converts video from any format and is a multi-platform product.
Wei-soft.com Limited has been making the top-grade consistently in both DVD Ripper and HD Video Converter segments. It has features that are technically far superior to other similar programs available on the market.
For more information, visit http://www.wei-soft.com.

AboutWei-soft.comLimited:
Wei-soft.com Limited is a premier graphic and multimedia company known for its innovative products, such as WinX DVD Ripper Platinum and HD Video Converter Deluxe. The company has been at the forefront of emerging technology in this niche and is clearly way ahead of competitors in providing clients high-quality DVD ripper and video converter software.
Media Contact
Company Name: Wei-Soft.com Limited
Contact Person: Vivian Shen
Email: Send Email
Phone: 0064-9-4155988
City: Auckland
Country: New Zealand
Website: http://www.wei-soft.com