Wei-soft.com announces the launch of WinX DVD Ripper Platinum new version 7.5.5 at a stunning 50 percent discount. It's the momentous version in 2014, It increase the ripping speed up to 50%. Besides Winx DVD Ripper, Wei-soft.com also have another product HD video converter which help to convert video format from any to any.
Premier graphic and multimedia enterprise, New Zealand Weisoft Limited, has unveiled an upgraded version of its popular DVD Ripper Platinum brand. It's the momentous upgrade in 2014. The company is offering a huge 50 percent discount too on this version called DVD Ripper Platinum 7.5.5.
Video Link: http://www.youtube.com/embed/LCB_m-Kz6mc
"There is no other software available that help you to watch movies freely on any media player devices other than our unique DVD Ripper Platinum," says Jason William the spokesperson for Wei-soft.com while announcing the launch of the newest version of the software. "Our software has unmatched DVD ripping and copies capabilities. Amazingly, you can use the software to copy the full content of the DVD to a single MPEG2 or Mp4 file without compromising on the quality of the video, audio, or original subtitles. This version increased ripping speed 50%. Based on a test report from third party, wei-soft.com dvd ripper platinum maybe the fastest ripper in the world."
Users can now make this technological marvel their own and that too at a huge discount of 50 percent. Wei-soft.com is offering the 7.5.5 version of their DVD Ripper at half the original price for a limited period. Industry experts believe there will be an unprecedented rush to buy the software, not only due to the generous discount offer but also due to the immense benefits users can enjoy with the advanced features of the software.
One of the key features of the WinX DVD Ripper Platinum software is its high-quality engine. This powerful engine is designed to provide users premium quality output even from standard DVD content. De-interlacing is another important asset of the software. It can be used to change interlaced scanning DVD movie to progressive scanning, hence creating a significantly improved video output.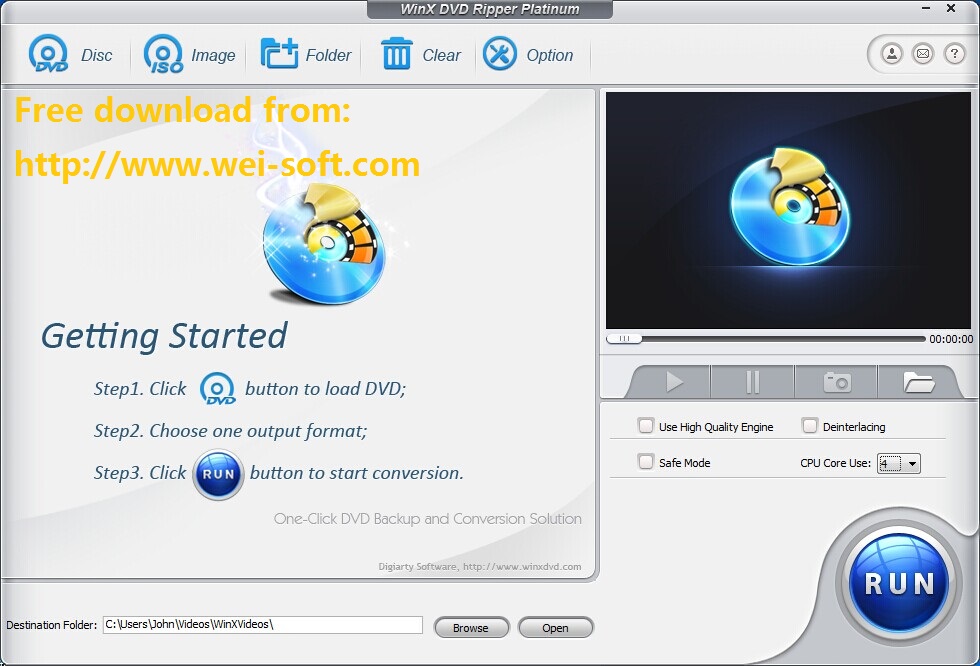 The unique technologies available with the software allow users to update the system regularly to support the most recent copy protections,such as Disney and sony's latest protections. DVD conversions happen at a blazing speed with the DVD Ripper Platinum 7.5.5, thanks to the amazing support the system gets for multi-core CPU. User convenience is significantly enhanced, as the program is pre-loaded with several pre-configured profiles, making it compatible with popular devices. Customization and profile-saving is a breeze with this advanced software.
The software is programmed to bypass all region and copy protections on DVDs to rip and copy content without any hassle. Users can fully backup the disc including the menus, trailers, and unique features that may be available on the DVD.
Wei-soft.com is expecting a huge demand for their latest version of the software, as it contains the newest technology available in the industry. The 50 percent discount will only add to the growing demand for the product says company officials.
For more information, visit http://www.wei-soft.com
About Wei-soft.com:
Wei-soft.com owned by Weisoft Limited, who is a premier graphic and multimedia company known for its innovative products, such as WinX DVD Ripper Platinum and HD Video Converter Deluxe. The company has been at the forefront of emerging technology in this niche and is clearly way ahead of competitors in providing clients high-quality DVD ripper and video converter software.
Media Contact
Company Name: New Zealand Wei-Soft.com Limited
Contact Person: Vivian Shen
Email: Send Email
Phone: 0064-9-4155988
City: Auckland
Country: New Zealand
Website: http://www.wei-soft.com