Matthew Okuhara, formerly known as Matt Gavin, is an adventurist. British Army an veteran of the Gulf, a former nuclear industry policeman, freemason, endurance runner, language teacher and now a western samurai, living and working in Japan.
In a dialogue with square talk, Matthew Okuhara, as he is now known, draws on comparisons between his life experiences and the samurai code; "a dedication to ritual, research, and presentation.
He has been visiting Japan on a regular basis for six years and moved here permanently in 2017. He decided to learn Japanese out of boredom in 2011.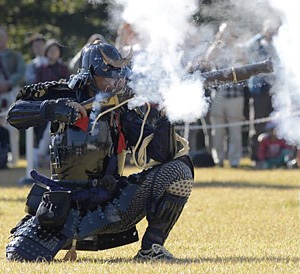 During his visit to Matsumoto Castle in 2016, Matt saw the castle samurai during their gunnery exercises but was incapable of knowing much of what was being said. These kinds of Japanese words aren't taught anymore, and even Japanese visitors needed clarification. But as a previous soldier and having a family connection to the city; he was able to present his services to the Matsumoto Gun Corps (gunsamurai.com). He believes that training with them regularly and taking part in displays and exercises of military skill in venues across Japan, can help keep the Samurai tradition alive.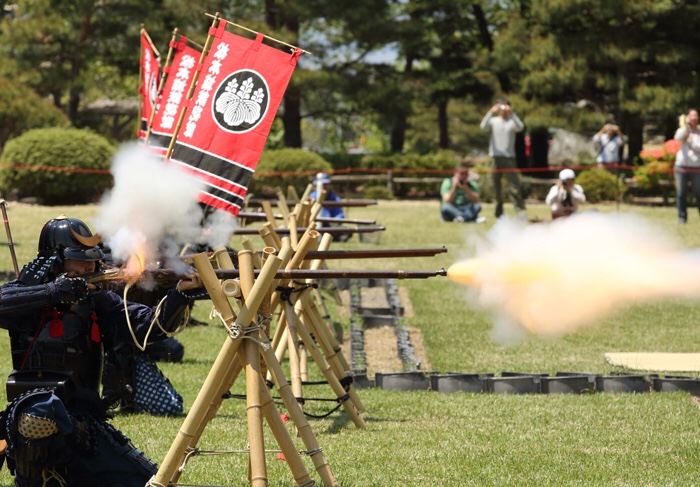 The History of Samurai
Samurai, also known as bushi were members of the ruling class of Japan. The name is also utilized for the military nobility of pre-industrial Japan. This is the etymology of the word "Subaru." A lot of people believe Subaru was firstly samurai and evolved over the years. At the end of the 12th century, Subaru became synonymous with the term bushi, or warrior, the origin of the term Bushido.
The samurai used, and were experts in many weapons of their time, including matchlock guns. But their most famous weapon, and the status of who they were, was the katana (more commonly known as the samurai sword). The belief structure and culture were based on the idea of Bushido, which means 'the way of the warrior' and advocated unquestioning loyalty to the master at all costs and obedience in all deeds, valuing honor above life. Bushido was so significant to the samurai that they would die or commit suicide with a strict formal technique called Seppuku by cutting their stomach with a sword before being captured or dying a dishonorable death.
The Significance of Samurai Culture has shown that teaching duty, honor as well as service are still relevant in the society of Japan today. The samurai assisted in forming the foundation and groundwork of Japan's civilization. The samurai held morals and values which have held up for a lot of years, and it's remarkable that they have held onto them for so long. If it weren't for the samurai authority, Japan might not have similar precise view on how to live their life. Samurai is an essential part of Japanese culture.
Samurai was Japan's military nobility. In the feudal age of the country, these individuals were the officer caste and retainers to the various domains. They were accepted for their expertise and dedication. During the Edo and Tokugawa periods, even western samurai was counted among their number, as retainers and advisors to officials and lords. Even Hollywood has touched on the matter; albeit with artistic license. Today Matt Gavin found himself as Matsumoto Gun Corps retainer. He offers explanation and translation to people who want it.
An adventurous life has shown Matt how vital samurai history and tradition is, therefore, he decided to help Gun Corps keep its history and culture alive.
What is Matsumoto Castel Gun Corps?
The Matsumoto Castle Gun Corps was developed way back in 1990, and since their inception, the organization has been researching about matchlock gunnery. In order to carry this out, they maintain an extensive collection of matchlock weapons which were forged in the Edo period and practice regularly and show gunnery exercises to visitors and guests.
There are many samurai related activities as well as experiences available which allows guests and visitors to experience the samurai culture. Amongst them are lectures with question & answer sessions, as well as martial workshops regarding fighting techniques and the opportunity to handle samurai weapons and armor.
Witness the gunnery exercises offered by Matsumoto Castle Gun Corps. They take part in various gunnery exercises all through the year. Guests and visitors are able to witness Matsumoto Castle Gun Corps members this coming October:
• Gifu – Lord Nobunaga's Parade – October 7, 2018
• Matsumoto – Castle Gunnery Exercises – October 14, 2018
• Online at gunsamurai.com
Popularly known as Matsumoto Teppo-tai, their displays utilize conventional methods and they wear full samurai armour. They strive to maintain the standards of their samurai heritage and culture. Together with English commentary as well as explanation, they aim to be the most excellent and renowned gunnery unit all throughout Japan.
"I will admit there is still a language barrier at times! But experience has shown it is possible to find a common purpose when building relationships and studying. It is not only language or ability that counts but a willingness to learn and get involved."
About Matt Gavin:
Matthew Okuhara was formerly known as Matt Gavin, is an adventurist. Decorated British Army soldier in the Gulf, a former nuclear industry policeman, language teacher and now is a modern western samurai, living and working in Japan.
For more information about Matt Gavin, or want to witness the gunnery exercises, don't hesitate to contact Matt Gavin at matthew.okuhara@yahoo.com or visit Matsumoto Gun Corps at http://www.gunsamurai.com.
Revive samurai culture and know its significance, witness their displays now.
Media Contact
Company Name: Matsumoto Gun Corps
Contact Person: Matthew Okuhara
Email: Send Email
Phone: 08061928767
Address:Matsumoto Castle
City: Nagano
Country: Japan
Website: www.gunsamurai.com