No need to wait for Google Maps update
How many times have you struggled to find the first step in the right direction towards your destination? Often times while using a map we walk in one direction and say, "Ooops! Wrong direction! Need to go back". Yesterday Google gracefully accepted the shortcoming of their Maps application, and announced a soon to be launched new feature in Maps to find the direction to a place using camera with Augmented Reality.
Why wait when the pioneering Google award winning app "WAM" is available? Just "WAM" places on the phone camera right now!
World Around Me (WAM) is an augmented reality based local discovery app that helps people in finding places to eat, drink, shop, stay, commute, pray, refuel, keep healthy or access money anywhere in the world. Available in 26 languages on iOS and Android, World Around Me is being in 200+ countries.
It helps people visually orient towards a place by using their phone camera, with the help of Augmented Reality. This is a novel discovery experience provided with augmented reality. World Around Me also provides reviews, contact details and lots of essential information about the place of interest.
World Around Me is Editor's Choice app on Google Play and was on one of Best apps of 2017 on Google Play. Earlier in 2016 World Around Me was awarded Google Play Award in Early Adopter category at a special ceremony conducted at Google HQ in Silicon Valley. It was selected as one of the top 10 apps among 4.6 millions apps available on Android.
There has long been a search for a genuine use case for augmented reality. Good news is that World Around Me has been available on the store and gaining popularity amongst users who say it is a "life saving kit".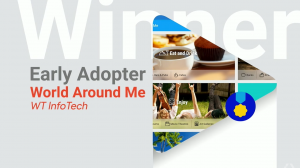 So next time you are looking for a bank, atm, cafe, pub, bookstore, grocery store, museum, bus stop, metro station, pharmacy, gym, spa, a place to pray or any service, then "just WAM it". World Around Me is a great app for both locals and travellers.
Remember that WAM works worldwide.
Media Contact
Company Name: WT InfoTech
Contact Person: Tarun Sainani
Email: Send Email
Phone: +44-7942847703 (Int\'l)
Country: United States
Website: www.worldaroundmeapp.com