MarketResearchFuture.com added New Report Named "Glass Packaging Market 2018: Global Industry Analysis, Market Growth and Opportunity Assessment, Segmentation by Application (Alcoholic beverages, food & beverages, pharmaceuticals and others) and by Region | Outlook to 2023" to its Database.
Packaging is a type of the advanced technology, which involves enclosing numerous defensive types of products for stocking, supply, sale, and use. The growing demand for non-toxic, healthy, and expediency food & beverages coupled with principal evolution in the alcoholic beverages and beer industry in the recent years have propelled the growth of the glass packaging market, exclusively in Asia Pacific, Europe, and North America.
Glass is the material of choice for packaging; glass packaging is environment friendly as glass is infinitely recyclable. Glass is the trusted and proven packaging for health, taste and the environment. It uses for packaging beverages, food products, personal care products, pharmaceutical products, and household products. It is widely used in the packaging of perishable goods and for products that can react with the packaging materials. Food and beverages are stored in glass containers and bottles as it is impermeable and non-porous. This makes it easy to keep intact and preserve the flavours and smell of the food and beverages. Moreover, launch of new varieties of consumer goods such as soft drinks, alcoholic drinks, and spirits increased the volume sales of packaged goods.
Get a Sample Copy of Global Report "Glass Packaging Market Research Report – Forecast to 2023" @ https://www.marketresearchfuture.com/sample_request/1258
Glass container manufacturers have been responsive to the numerous demands of consumers resulting in innovative designs, lighter weight packages, and establishment of various brands. Consumers have placed greater emphasis on greener packaging and healthier products which would have positive impact on glass packaging market. Glass is a wonderful substance. It can be recycled over and over again. The good thing about glass recycling is that the glass retains its quality. The aesthetic value of the environment is greatly improved through glass recycling. Many people tend to focus on glass packaging due to the inorganic nature of glass.
Growing plastic packaging demand due to cost effectiveness, easy handling & transportation, durability, and aesthetic features will negatively affect the glass packaging market in coming years. Whereas, increase in demand from the different end-user, such as food & beverage sector, pharmaceutical products, and laboratory chemicals. Moreover, the eco-friendly production of glass is also one of the major drivers for the growth of the global glass packaging market. Glass packaging, due to its high cost, brittleness and transportation inconvenience is may face hindrance in growth in future period.
Global glass packaging market is growing with the rapid pace; mainly due to advancement in technologies. According to a recent study report published by the Market Research Future, The global market of Glass packaging is booming and expected to gain prominence over the forecast period. The market is forecasted to demonstrate a stunning growth by 2023, surpassing its previous growth records in terms of value with a striking CAGR during the estimated period (2017 – 2023).
Glass packaging Market – Competitive Analysis
Glass Packaging Market appears to be competitive with the presence of several large and small players operating in the Glass packaging Market. These Key players compete based upon pricing, quality, Technology and reputation. Glass packaging market demonstrates a high growth potential which is likely to attract many entrants to the market resulting in to intensified competition further. The report also considers key trends that will impact the industry and profiles of leading suppliers of glass packaging market. Some of the top companies mentioned in the report are Amcor, Saint-Gobain S.A., Ardagh Packaging Holdings Limited, Hindusthan National Glass & Industries Limited, Bormioli Rocco SPA and Vetropack Holding AG. Moreover, manufacturers mainly ensure to deliver the best quality products based on innovative technologies, and best practices.
Segmentation
Global glass packaging market is segmented based on product, application, and region. Based on the products, the market is segmented into bottles, jars, and vials. The bottles segment is projected to dominate the glass packaging market over the forecast period owing to the extensive use of bottles in the all major end-use sectors. Bottles provide an ideal way to keep the consumables safe, fresh, and healthy for a longer period as well as they are easy to transport. Based on the application, the market is segmented into alcoholic beverage packaging, non-alcoholic beverage packaging, food packaging, pharmaceutical and personal care packaging. Alcoholic beverage packaging dominated the market in 2016 and is projected to be the fastest-growing application during the review period 2017-2023. The growing consumption of alcoholic beverage, especially beer, whiskey, scotch, vodkal, and rum across the globe is creating a lucrative demand for alcoholic beverage packaging, which, in turn, is benefitting the global glass packaging market.
The glass packaging industry is widely segmented by a number of multinational, local, and regional vendors. The North American manufacturers currently hold the dominant position in the global market. Local players are mounting the stakes by catering revolutionary product line at lower prices as compared to international vendors. The market is also expected to have high expansion activities by deep-rooted and international manufacturers.
Market Segmentation: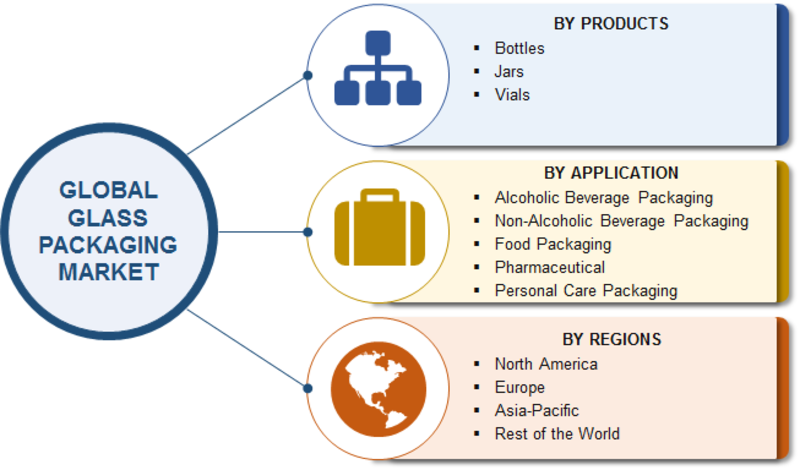 The global glass packaging market is expected to grow at a CAGR of about 6% during the forecast period 2017-2023.
Get Attractive Discount on Global Report "Glass Packaging Market Research Report – Forecast to 2023" @ https://www.marketresearchfuture.com/check-discount/1258
Key Players:
Owens-Illinois Inc. (U.S.)
Saint-Gobain S.A. (France)
Ardagh Group S.A. (Luxembourg)
Gerresheimer AG (Germany)
Vetropack Holding AG (Switzerland)
Amcor Limited (Australia)
Nihon Yamamura Glass Co. Ltd. (Japan)
Tamron Co., Ltd. (Japan)
Piramal Glass (India)
Hindustan National Glass & Industries Ltd. (India)
Stölzle Glasgruppe GmbH (Austria)
Vidrala SA (Spain)
Wiegand-Glas GmbH (Germany)
O.Berk Company LLC (U.S.)
Shandong Pharmaceutical Glass Co. Ltd. (China)
Industry/ Innovation/ Related News:
June 09, 2015: Saint-Gobain to divest glass manufacturing unit Verallia at €2.95bn.
July 24, 2017: Corning and Gerresheimer collaborate to deliver new corning valor™ glass to the pharmaceutical packaging market.
September 7, 2017: Orora's glass facility expansion completed for USD 42 Million. Before this expansion, Orora had been forced to look to offshore bottle imports to keep up with demand. Orora's Gawler facility is already one of the largest glass manufacturing facilities in the Southern Hemisphere and the $42 million investment enables us to service the increased demand for high quality glass bottles
Regional Analysis
The global glass packaging is segmented by the prominent regions, which are North America, Europe, Asia Pacific, and Rest of the World. Among these regions, Asia Pacific registered the highest market share in 2016 and is anticipated to grow at the highest CAGR over the forecast period on account of good presence of the raw material, low labor costs, and highly advanced manufacturing technology. The region contains most of the global population and thus, the consumption of food & beverages products as compared to the other regions is high. This has flourished the overall packaging industry including evolution of the glass packaging industry. China, India, Japan, and Australia among others are the prominent nations majorly contributing to the growth of the Asia Pacific glass packaging market. The phenomenal evolution in the food & beverage industry of these nations is creating a fruitful foundation for the glass packaging market. Moreover, growing pharmaceutical and chemical industries are substantially contributing to the development of the glass packaging market.
North America held the second largest share of the global glass packaging market in 2016 and is expected to witness a remarkable growth over the forecast period. Countries such as the U.S. and Canada are dominating the market due to high consumption of alcoholic and non-alcoholic beverages. The highly advanced technology used by the city municipals in the U.S. and Canada to recycle the glass products is aiding the glass packaging manufactures to manufacture the new product through the recycled glass, which indirectly reduces the cost of manufacturing. All these factors are majorly driving the North American glass packaging market.
Feel free to get in touch for Attractive discounts and customized details, please click More Details @ https://www.marketresearchfuture.com/reports/glass-packaging-market-1258
Product Analysis
Product matrix which gives a detailed comparison of the market for different recycled product types
Additional Information
Regulatory Landscape
Pricing Analysis
Macroeconomic Indicators
Geographic Analysis
Geographical analysis across 15 countries
Company Information
Profiling of 10 key market players
In-depth analysis including SWOT analysis, and strategy information of related to report title
Competitive landscape including emerging trends adopted by major companies
About Market Research Future:
At Market Research Future (MRFR), we enable our customers to unravel the complexity of various industries through our Cooked Research Report (CRR), Half-Cooked Research Reports (HCRR), Raw Research Reports (3R), Continuous-Feed Research (CFR), and Market Research & Consulting Industrials.
MRFR team have supreme objective to provide the optimum quality market research and intelligence Industrials to our clients. Our market research studies by Components, Application, ISO Shipping Container and market players for global, regional, and country level market segments, enable our clients to see more, know more, and do more, which help to answer all their most important questions.
Media Contact
Company Name: Market Research Future
Contact Person: Abhishek Sawant
Email: Send Email
Phone: +1 646 845 9312
Address:Market Research Future Office No. 528, Amanora Chambers Magarpatta Road, Hadapsar
City: Pune
State: Maharashtra
Country: India
Website: https://www.marketresearchfuture.com/reports/glass-packaging-market-1258