Currently, the global high barrier packaging film market is fragmented on account of numerous local and international players. The players try to stay ahead of the curve through product differentiation and pricing. In the upcoming years, the competition is slated to heat up further on the back of mergers and acquisitions, product extensions, and technological progress.
Prominent participants in the global high barrier packaging films market are Ampac Hoilding LLC, Glenroy, Inc., Amcor Limited, Bemis Company, Inc., Uflex Ltd., The Mondi Group plc, Sealed Air Corporation, Celplast Metallized Products Ltd., Winpak Ltd., Toray Plastics (America), Inc., Polyplex Corporation Limited,Berry Global Group, Inc., LINPAC Packaging Limited, Bischof & Klein GmbH & Co. KG, Schur Flexibles Hoilding GesmbH, Huhtamaki Oyj, Plastissimo Film Co., Ltd., DUNMORE Corporation, and ACG Worldwide Private Limited.
As per a report by Transparency Market Research, the global high barrier packaging films market will likely expand at a 7.8% CAGR during the period between 2017 and 2027 to become worth US$43.08 bn by 2027.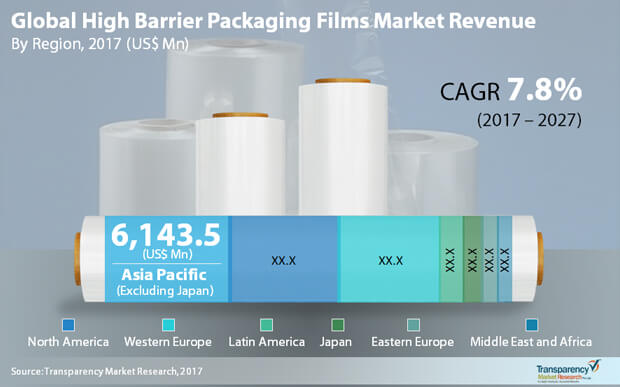 Demand for Packaged Food Catapults Asia Pacific, Minus Japan, to Forefront
The global high barrier packaging films market can be segmented based upon different parameters. By the type of packaging, for example, it can be divided into bags, pouches, lids, films, shrink, laminated tubes, etc. Of them, pouches are slated to clock maximum growth in the next couple of years by expanding at a CAGR of 7.9% between 2017 and 2027.
For more information on this report, fill the form @ http://www.transparencymarketresearch.com/sample/sample.php?flag=B&rep_id=28016
Key regions in the global high barrier packaging films market are Latin America, North America, Western Europe, Eastern Europe, the Middle East and Africa, Asia Pacific excluding Japan, and Japan. Of them, Asia Pacific barring Japan accounts for maximum share in the market because of the proliferation of the packaged food market and increasing number of modern retail outlets. The region is also expected to be the most attractive in terms of CAGR of 7.9% over the forecast period.
Increasing Consumption of Dairy Products Stokes Demand
Majorly fuelling growth in the global high barrier packaging films market is rapid rise in consumption of packaged food. Increasing consumption of diary product and ready to eat meals are particularly stoking demand. "In addition, increasing health awareness among the consumers have generated substantial demand for convenient form of flexible packaging such as high barrier packaging films. Flexible packaging manufacturers are focusing on extending the shelf life of the product particularly the packaged food industry which are leading consumers of high barrier packaging films," explains the lead analyst of the report.
Countering the growth in the global high barrier packaging films market, on the other hand, is the surging uptake of substitutes such as liquid cartons. Also, recycling and disposing of multilayered films is negatively impacting the market. This is because recycling costs more than manufacturing and dumping of barrier films results in environmental degradation.
Media Contact
Company Name: Transparency Market Research
Contact Person: Mr.Sudip.S
Email: Send Email
Phone: 8665523453
Country: United States
Website: http://www.transparencymarketresearch.com